The holiday season is upon us, which means endless festivities for many of us. As errands and invitations pile up, it can be tempting to let routine slide, fortunately there's some tips and solutions to keeping your pet happy and safe this season. Happy Paw-lidays!!!
Step 1: Enjoying the Holidays with Your Pets
A packed holiday schedule means you may have less time to spend with your pets. This lack of attention can cause your cat or dog to feel stressed out, which can lead to bad behavior. Toss a ball in the living room for your pup while coordinating travel plans with a relative on the phone, curl up on the couch with your cat for a television break after a long day or take your dog with you to run a quick holiday errands. If your pet likes people, you can encourage guests to spend time with your pet as well. A lot of dogs and cats are looking for attention—to be pet, played with, and simply acknowledged. Simple things such as petting them or talking to them can go a long way. Give your pet his own stocking and fill it with all kinds of Christmas goodies, so when December 25th rolls around and you're opening presents, your pet will benefit as well. Reward your cat for being good this year with a toy or give your dog a bone to chew on to occupy himself while you dive into those gift bags. And lastly, always give your pet a daily dose of love will keep them healthy and happy as the year winds down.

Step 2:

Holiday Travel with your Pet




Whether you take your pets with you or leave them behind, take these precautions to safeguard them whenever you're traveling during the holiday season. Here are some tips to show you how to keep yourself and your pet calm and comfortable, no matter what distance or mode you travel.

If you don't plan to use a crate in the car, be sure your pet rides safely with its head inside the window at all times. Keep pets in the back seat in a harness you can attach directly to the seat belt buckle. Also include some of their favorite blankets, toys, or anything that will make them comfortable will help during travel time. If your pets get car sick, you should feed them a few hours before you leave and then wait until after you arrive to feed them again.

If your pet has never been on a long journey before, get them ready by taking them on short drives and then increase the time gradually. Be sure to put them in their crate every time, so they get used to it faster. Take a walk around the airline terminal or station to get them familiar with the smells and sounds. Reward your pet for good behavior and talk reassuringly to them.

If you have to fly, you may need to plan a little more in advance. The rules and regulations for flying with pets are different for every airline. Larger dogs usually have to fly in the cargo area of the plane which is the pressurized and temperature controlled section under the seats. On other modes of transportation, like buses and trains, water may not be easily accessible, so find out if you can carry bottled water for your pet. If not, make sure they have water on board for your pet. You will need to do your research to make sure your pet has all the necessities and is well-cared for, no matter what mode of transportation you choose.
Step 3: Holiday Pet-Proofing
During the holiday season, make sure to inspect your home of any hazards that may be dangerous to your pets. Secure your tree properly, to keep your tree from toppling over and injuring your cat or dog, secure it with additional hardware or put up a gate.
Also, gift ribbons and similar decorations can cause serious harm if pets ingest them. Keeping the house clear of pieces of wrapping paper, dangling Christmas lights, and many other decor that may seem like toys to your curious pets. will help keep them safe during this festive season!
Step 4:
Holiday Pet Health
Like people, pets can gain weight during the holidays. Keep your pet on a regular feeding schedule and avoid giving your pet's table scraps, which can wreak havoc on his system, cause diarrhea, and vomiting or add extra calories he doesn't need. And, too much fatty food can also cause pancreatitis, says the Princeton Veterinary Hospital.
Dr. Jason Nicholas, author of "101 Essential Tips You Need to Raise a Happy, Healthy, Safe Dog." Be diligent at keeping an eye on your pet. When your pet wants something, he'll find a way to get it. During the holidays, there are all kinds of delicious – and toxic – things hanging around the house. Chocolate, uncooked bread yeast dough, macadamia nuts, onions, Xylitol and more can all cause big problems if your pet ingests them.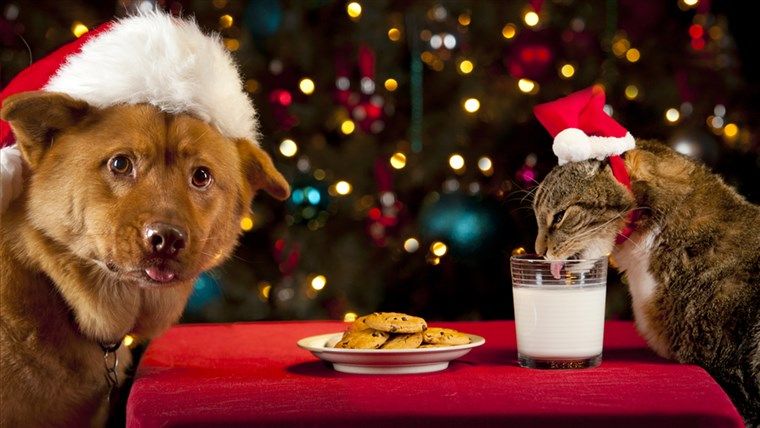 Step 5: Managing Pets Holiday Stress
The holidays are a time for gathering with family and friends, gift-giving, and festive fun. But, it's not always the most wonderful time of the year for our pets. To a dog or cat, the twinkling lights, changed routines and increased interactions with strangers can cause added stress, anxiety, barking or bad behavior.
Many pets have an area or room where they feel safe. This is especially important for your pet's security during the holidays when there are many strangers around, as well as lots of loud noises (i.e. firecrackers on New Years). Pets need an area where they can retreat to if they are scared or overwhelmed. From a bedroom to a bathroom to an inside dog crate, animals often feel safer in den-like spaces. Closing windows, blinds and curtains can helps to avoid visual and auditory stimulation. Giving them their favorite toys can help as well. Make sure they have access to water.
Note: If your pets suffer from serious anxiety, you can ask your veterinarian for options as well.